Next Meetup
Topic:
Brisbane Web Design June 2013Venue: The Edge (State Library of Queensland, Stanley Place, South Bank, Brisbane, Australia))Date: 7:30 am, Thursday 20 June RSVP for this Event
Topic:
Brisbane Web Design July 2013Venue: The Edge (State Library of Queensland, Stanley Place, South Bank, Brisbane, Australia))Date: 7:30 am, Thursday 18 July RSVP for this Event
Post Archive
News
Poster for our event on 21st October 2010 is now available. Please download it here (PDF, 1.5mb) and place it in your home, office or university notice board. Thank you for helping spread the word!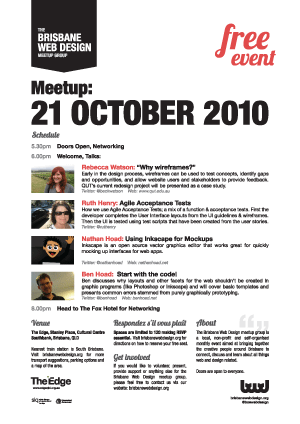 Download a print ready poster of September's event here and place it in your school, university or office notice board. Help spread the word of our next meetup!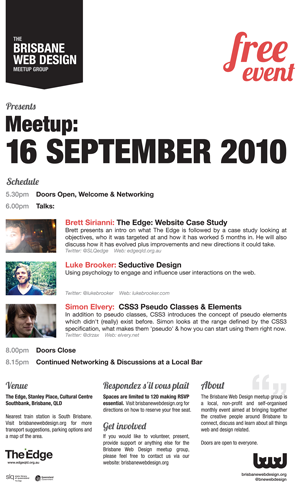 It's a glorious day. A website for Brisbane's creative's has launched – but it's still early days and there is much to be done.
The Brisbane Web Design meetup group is a local self-organisation monthly event aimed at bringing together Brisbane's web creatives to connect, discuss and learn about all things web design related. We hold monthly meetings where members can network and discuss a range of these topics. Anyone can join – membership is FREE – and people [...]